Tisha B'Av
Dear Friends,
As Tisha B'av approaches, we are reminded that our Holy Temple, the Bet HaMikdash, was destroyed because of the sin of Sin'at Chinam, baseless hatred.  Our Sages teach us that in order to bring about the redemption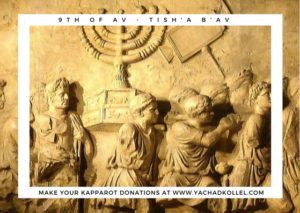 and rebuild our Temple, we must rectify this sin through acts of  Ahavat Chinam, baseless and brotherly love. 
 In this world, there are two kinds of hunger: physical hunger for food and spiritual hunger for Torah, Mitzvot, and spirituality.
Yachad Kollel is offering you the opportunity to do an act of Ahavat Chinam that will nourish both the physical and spiritual hunger of our brothers in Israel and right here in our community.  In lieu of Kapparot chickens, we invite you to send a donation of $26.00 per person in your family.  Your donation will go directly to provide basic needs for poverty-stricken families in Israel and toward enriching and uplifting the lives of our community members through outreach and education.
Tzedakah, charity, is surely the best Kapparah we can hope to attain for ourselves and our families.  Let us pray that this Tisha B'av will be the last one spent in exile.  May our efforts to help our brothers in need bring about an end to our difficulties in Galut and the beginning of our final redemption.
Wishing you all the best,
Rabbi Yosef Shemtov
Executive Director
[give_form id="27438″]