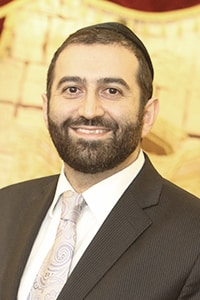 Parasha Thoughts
By Rabbi Shemuel Akhamzadeh
וְהָיָ֣ה לָכֶם֮ לְצִיצִת֒ וּרְאִיתֶ֣ם אֹת֗וֹ וּזְכַרְתֶּם֙ אֶת־כָּל־מִצְוֺ֣ת ה וַעֲשִׂיתֶ֖ם אֹתָ֑ם וְלֹֽא־תָתֻ֜רוּ אַחֲרֵ֤י לְבַבְכֶם֙ וְאַחֲרֵ֣י עֵֽינֵיכֶ֔ם אֲשֶׁר־אַתֶּ֥ם זֹנִ֖ים אַחֲרֵיהֶֽם׃
לְמַ֣עַן תִּזְכְּר֔וּ וַעֲשִׂיתֶ֖ם אֶת־כָּל־מִצְוֺתָ֑י וִהְיִיתֶ֥ם קְדֹשִׁ֖ים לֵֽאלֹהֵיכֶֽם
That shall be your fringe; look at it and recall all the commandments of the LORD and observe them, so that you do not follow your heart and eyes in your lustful urge.(15-39)
Thus you shall be reminded to observe all My commandments and to be holy to your God.
Every time we make a beracha before a mitzvah, we thank Hashem for making us holy through that mitzvah by saying "אשר קידשנו במצוותיו וציוונו." Chofetz Chaim has a fascinating point from this week's portion on this idea. He points out that in Passuk (15-40) the words "וַעֲשִׂיתֶ֖ם אֶת־כָּל־מִצְוֺתָ֑י," to observe all My commandments, are seamingly repetitive since it was already mentioned in the previous verse "וּזְכַרְתֶּם֙ אֶת־כָּל־מִצְוֺ֣ת ה," to do all the commandments of Hashem. Chofetz Chaim explains that here the Torah is revealing that one may be keeping all the mitzvot fully, however he will not achieve kedusha, holiness, unless he is also in line with the words " וְלֹֽא־תָתֻ֜רוּ אַחֲרֵ֤י לְבַבְכֶם֙ וְאַחֲרֵ֣י עֵֽינֵיכֶ֔ם", the desires of one's heart and eyes ( Heresy & illicit relations )." The verse continues, "Thus… Be holy to Hashem."
Perhaps this idea is similar to the explanation of Ramban on the mitzvah of Kedushim Tihyu: to keep our desires in check even when they do not contradict the words of Torah. One who rises above his physical desires and is in control of them is a holy person.
Shabbat Shalom
Leilui Nishamat Mordechai Ben David